I've been having an issue recently where my Highbeam Assist stops working. I believe the cause is the cameras fogging up as can been seen below. If demist the windscreen the Highbeam Assist is restored.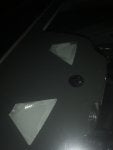 I have had my windscreen replaced due to it being cracked during a stone chip repair. I'm wondering if it has not been sealed correctly.
My question is, am I the only one having this issue? Do the cameras fog up on the stock windscreens?